About Us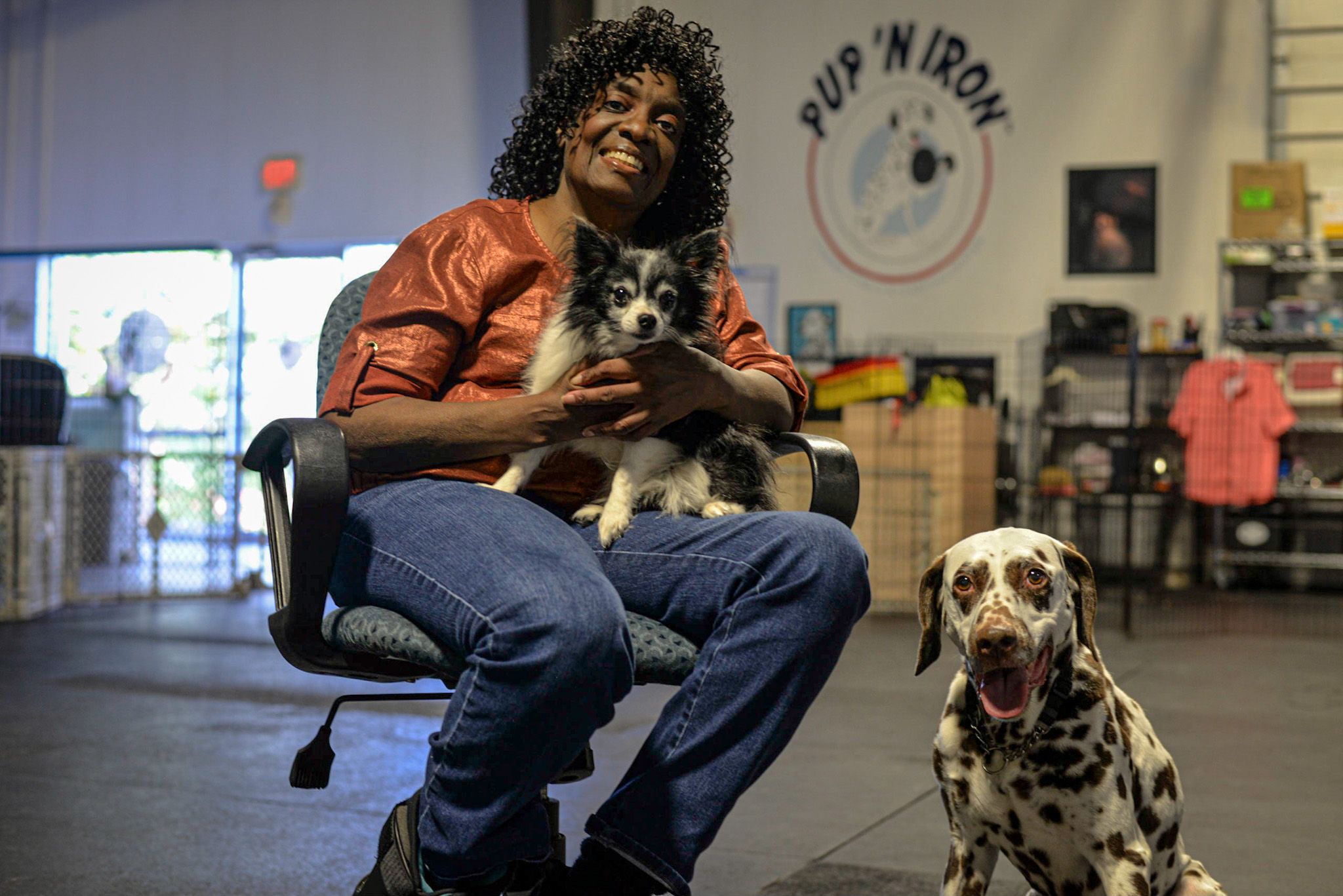 Laurie C. Williams BA CCUI Fear Free Certified CDTI

Pup 'N Iron is the realization of a life long dream come true.  Having lived in this community for over 30 years, I am happy and proud to provide a safe place where people can connect with their wonderful canine companions. I have devoted my life to the love of dogs and am very fortunate to have enjoyed a long professional career in dog training, behavior modification and general pet care spanning over 35 years.  I have served as a professional pet groomer and veterinary technician, but my passion has been helping people form close, personal, life-long bonds with their dogs. I was one of the first dog trainers in Virginia to be certified with the Certification Council of Professional Dog Trainers (CPDT) in 2004 and am one of only 75 Control Unleashed Certified Instructors in the U.S. I have titled multiple dogs in obedience, rally, conformation, hunt tests and agility competitions over the years but most importantly, I am honored to have helped thousands of dogs and their people establish incredible relationships and live their best lives! I am a internationally Rally Obedience Judge for the AKC (American Kennel Club), UKC (United Kennel Club), WCRL (World Cynosport Rally Limited) and C-WAGS (Canine Work and Games) and a licensed AKC Canine Good Citizen and Temperament Test Evaluator.


More:
I began training dogs with the Jacksonville, NC Kennel Club back in the early 1980's.  My husband was transferred to Quantico Marine Base in 1987 and we began offering family dog classes here in Stafford.  We quickly followed by offering basic manners classes for MWR MCB Quantico and the community education department at Northern Virginia Community College. Just prior to opening Pup 'N Iron I served as the Area Trainer for PETsMART's VA/MD district. In this capacity I oversaw the training and accreditation of all PETsMART pet training instructors in the northern Virginia stores. I piloted the training program in the Stafford, Virginia store, leading that store to the highest training sales in the history of the PETsMART company.  I ham the former Vice President and board member of the Association of Professional Dog Trainers, the largest dog trainer professional organization.  

I hold a B.A. from Norwich University in Montpelier, VT and was a member of the adjunct faculty of the Natural Sciences Department of Northern Virginia Community College for 7 years. I am a nationally published writer with works appearing in Dog & Handler, 911, Essence, Fitness, and Good Housekeeping APDT Chronicle of the Dog and The Whole Dog Journal. I am a member of the Board of Governors of the Dog Writer's Association of America, and I was one of the first certified dog trainers recognized by the Certification Council for Professional Dog Trainers in the Commonwealth of Virginia.

I had the opportunity of participating in the first ever, nationally televised prime time reality show about dogs.  Greatest American Dog aired on CBS from July 10 - September 10, 2008.  It was a show depicting the relationships between twelve owner/dog pairs.  My Maltese Andrew, the smallest dog in the competition, was selected runner-up!  In addition to my extensive background in dog training and behavior modification, in order to stay abreast of the newest training and behavior modification techniques, I attend regular continuing education seminars with the leading dog behavior specialists in the field such as Karen Pryor, Ian Dunbar, Patricia McConnell, and Ray Coppinger.  I have been a featured speaker and presenter at national and international professional dog training educational conferences, workshops and seminars broadcast throughout the world. I have spent the greater part of my adult life pouring my heart and soul and expending my blood, sweat and tears into learning as much as possible about one glorious, phenomenal animal - the dog. And I wouldn't trade it for anything.  I am proud to call myself a professional dog trainer! 

My husband Mike and I currently share our lives and home with our 4 wonderful dogs who we can't imagine life without.