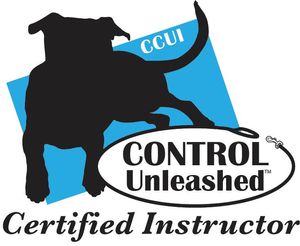 The Control Unleashed® program was created by renowned dog trainer Leslie McDevitt to help dogs learn how to better manage their stress, gain confidence and improve their impulse control and ability to focus around triggers and distractions. Pup 'N Iron Canine Enrichment Center is pleased to be one of the first training facilities in  Virginia to offer this exclusive and innovative program. 
Who is it for: 
Dogs that are uncomfortable or unable to work around other dogs
Dog that are easily distracted and have difficulty concentrating
Dogs that are reactive or easily aroused
Dogs that are anxious or stressed and shut down
Dog that are unable to control their impulses when excited
In this 8 week program, which includes an orientation without your dog, followed by 7 weeks of group classes, your dog will not only gain confidence being around other dogs, but more importantly you will gain more confidence in your skills to manage these once stressful situations and develop better communication and a more trusting relationship with your dog. You will learn to read your dog and communicate on a higher level. 
*Note: This is not a class for aggressive dogs that have a bite history that pose a potential danger to other dogs or people. If your dog has this history, please contact me about one on one private training.*
NEXT CLASS STARTS:
Saturday, Sept. 23,  2023
12:30pm
Orientation
Followed by class on Saturday at 12:30pm for the following 7 weeks.

Fee: $450

CLICK HERE TO REGISTER
Click HERE to pay online 
Your Instructor: 
Laurie C. Williams BA CDTI CCUI is one of the first Certified Control Unleashed Instructors (CCUI) in the Commonwealth of Virginia and has been working with reactive dogs throughout her 35 years in the dog training profession. Laurie worked directly under the tutelage and mentorship of Leslie McDevitt herself to obtain this exclusive certification and was a presenter at the international Control Unleashed Conferences in 2020. and 2021.
REACTIVE BEHAVIOR QUESTIONNAIRE
(Upon enrollment, please submit the below questionnaire)