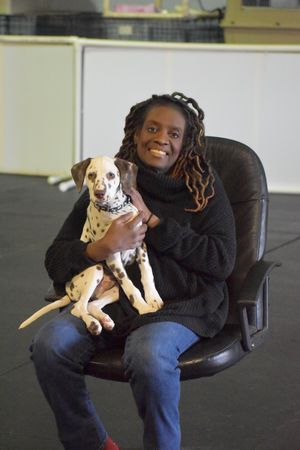 Dear dog training enthusiast,
You likely happened upon this page through searching, "how to become a dog trainer," or maybe you found it through my social media. However it happened, glad you are here! Dog training and behavior has been my passion for most of my life. Not only did I love dogs since I was a child, but most importantly I loved watching them learn. And 35 years later, I still do! So if you share that passion, you are "my people" and in the right place.
The first thing you need to know is, unfortunately the dog training profession is a completely unregulated industry. Literally anyone can "hang up a shingle" and call themselves a professional dog trainer and start charging money for their services. There is no governing body, no minimum education requirements, no best practices standards, no required license or certification, and no required experience. And that's why the quality of services from one dog trainer to the next is so varied. However, there  are roads to truly becoming a qualified and fully prepared, knowledgeable and well rounded dog training professional and a mentorship is one of them. 

I have been training dogs professionally for 35 years (Laurie's detailed bio) and run my own full service dog training facility for the past 17 years. Throughout that time, not only have I expanded my experience, but have also continued to study and earn continuing education along the way from the most world renowned and leading canine behaviorists and scientists. Now I can pass on my experience and education to you. My mentorships consists of independent study, live or virtual discussions, and live or virtual observation of skills. class/private consultation observation, and assistant teaching. The course is presented as follows:
Areas of Concentration to include but not limited to:
CANINE BEHAVIOR AND LEARNING THEORY
How dogs learn
How dogs communicate and how we can better communicate with them
Classical Conditioning
Operant Conditioning
Counter Conditioning and Desensitization
Common Behavior Problems
Book Discussions
SETTING UP YOUR BUSINESS
Finding your niche
stablishing a brand
Setting up your business
Brick and Mortar or Traveling Services
What to charge for your services
Business/Trainer ethics
Marketing
CREDENTIALING
Programs and certifications
Professional organizations and associations
Additional trainer resources
EFFECTIVE COMMUNICATION/TEACHING SKILLS
Building a rapport worth clients
Client confidentiality
Establishing boundaries
​​​​​​​
1-HOUR IN PERSON LIVE SHADOWING SESSIONS - $75
Come shadow me as I work directly with clients one on one and/or teach a group class, followed by a 30 minute Q & A to discuss the session.
1-HOUR MENTOR SESSION - $100
These sessions will be all things dog training! From the list above we can systematically go through all topics or you can do it "a la carte" and select the topics you are most interested in. Let us know which topics (from the list above or others) you are most interested in  
MENTORSHIP PACKAGE (In Person) $900
8 - Hours of Mentor Sessions + 8 Shadowing Hours 
VIRTUAL MENTORSHIP PACKAGE $650
4 - Hours of Mentor Sessions + 4 - Hours of Instruction, Observations and Critiques
ASK ABOUT BIPOC SCHOLARSHIPS
---
If you have more questions and/or are ready to start your journey, complete this form and let's get started!!