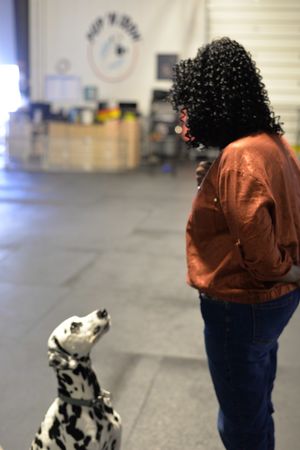 COULD YOUR DOG BENEFIT FROM TRAINING?
1.Does your dog pull when he walks on a leash?
2. When you call your dog to come does he ignore you?
3. Does your dog steal food or other items and run off with them?
4. When a visitor comes does your dog jump all over or bark non- stop?
5. Is your dog unfocused around distractions?
6. Does your dog still have potty accidents in the house?
7. Is your dog nervous, fearful or aggressive around children, strangers or other dogs?
8. Is    your    dog    destructive    when left alone?
9.Does your dog only listen to you when you have treats?
10. Is your dog unmanageable in public?
If you answered "yes" to any of the above questions, positive reinforcement, relationship and reward-based training could be the answer you've been looking for to bond with your dog and get things under control. Anyone can show you how to teach your dog to "sit," "down," "stay." For that matter, you could pick up a book from any library or bookstore that can show you how to do that as well. Teaching dogs "commands" and various different words is not difficult. Getting them to do it, or even more importantly, getting them to want to do it consistently and reliably over and over again is a different story.  Showing a dog how to live peacefully and harmoniously in your household is also a different story.  Dogs are relationship-based animals. They will follow a leader they feel is worthy of being followed  They follow a leader they respect and who respects them. And at Pup 'N Iron™ we show you how to be the leader your dog needs, not because he fears you, but because you are his benevolent leader and the person he must rely on for all his needs. At Pup 'N Iron we follow the guidelines for humane training called for by the American Veterinary Society of Animal Behaviorists (AVSAB). From it's position statement,
"Evidence supports the use of reward based methods for all canine training. AVSAB promotes interactions with animals based on compassion, respect, and scientific evidence. Based on these factors, reward-based learning offers the most advantages and least harm to the learner's welfare. Research supports the efficacy of reward-based training to address unwanted and challenging behaviors. There is no evidence that aversive training is necessary for dog training or behavior modification."
To read the statement in it's entirety, click here.
"Effective training is a partnership between you and your dog based on trust, love, and science. Strengthen your bond so you can train force-free."

Sure, it is much easier and sometimes even quicker to slap a choke chain, prong collar or shock collar on your dog to get results. But those results come at a price, and your relationship with your dog will often foot the bill.  While aversive methods, fear and intimidation may get your dog to do what you want, it will also break all trust your dog has in you to be his benevolent leader. A successful relationship should be based on trust and mutual respect. Simply put, a dog will NEVER fully trust the hand that hurts him! He might obey and he'll definitely fear you, but he will never fully trust you.
And that is why at Pup 'N Iron we follow the "LIMA" approach to dog training - :
Least Intrusive, Minimally Aversive

Puppies starting out on the right paw!
At Pup 'N Iron we are unequivocally opposed to the use of physcal punishment based corrections, compulsion dog training and any association with trainers using those methods.
Pup 'N Iron™ classes are POSITIVE, DOG & PEOPLE FRIENDLY, AND PAIN FREE training zones    
for both dogs and humans!
We offer a full schedule of programs and classes to suit your needs from puppy and basic family dog manners, behavior modification for behavioral issues, to competitive obedience, therapy dog, and agility training.  Our training classes and programs are led by experienced Certified Professional Dog Trainers and behavior modification consultants.

Our classes are conducted in a spacious 5400 square foot main gym equipped with state of the art equipment, and sports flooring. At Pup 'N Iron helping you develop the best relationship with your dog is not merely an after thought that we've added - it's our PRIMARY FOCUS.  Here your dog will encounter the proper level of distractions that will help you manage him not only in your home, but while in the presence of other people and dogs.  We control the environment and add the necessary distractions at the appropriate rate.  Our canine educators bring 50 years of experience combined and are taught in an atmosphere conducive for both you and your dog to learn.  Our humane, dog and human friendly training techniques are based on the tried and true scientific canine learning and behavior theories of Pavlov (classical conditioning) and Skinner (operant conditioning).  Our indoor facility is safe and secure, with controlled distractions in a completely climate controlled environment.  Our trainers and canine behavior modification consultants have worked with dogs from a variety of breeds and different goals, from the pet needing reinforcement of basic manners, the special needs "problem" dog, to the canine athlete seeking that competitive edge.  Simply put, we are confident you will not find the level of experience and instruction offered at Pup 'N Iron™ anywhere else.  We are the place trainers and veterinarians come to train their own dogs!
At Pup 'N Iron we understand that many dogs have special needs and busy families have time constraints.  For you we offer special programs such as accelerated programs as well as private behavior modification consultations.  At Pup 'N Iron there is literally a program for every dog and every human!    

 

Puppy Agility!    
 
**WE ARE PROUD TO BE THE MOST RECOMMENDED TRAINERS AND BEHAVIOR MODIFICATION SPECIALISTS BY AREA VETERINARIANS**
 **Please fill out the online class registration form located directly below.  After completing your online registration, go directly to our Pay Online page and submit your payment.  Online registrations without accompanying payments are deleted from our system within 24 hours. 
Please make note that payment must be received along with this online registration in order to reserve your dog's spot in the class.  Please bring a copy of your dog's vaccination records to class.