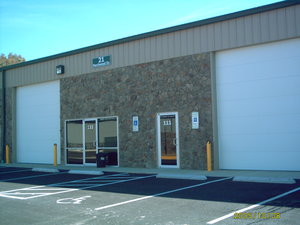 Our state of the art 5600 square foot facility is the first of its kind in Northern Virginia.  Even though we have a Fredericksburg mailing address, we are located in Stafford County off of Route 1 South, just 3.4 miles south of the Stafford Courthouse; making us convenient to both north and south County and Fredericksburg city residents as well.  We're located in a quiet industrial park so at  Pup 'N Iron you can avoid those noisy and crowded shopping centers.
 
This video of one of our classes shows our main gym in full view.



Features:
Facility Rental:  Pup 'N Iron facilities are available for rental to clubs, groups and organizations for seminars, matches, run-throughs and meetings.  Please contact us for more information.
 Year round climate control - Air Conditioning & Heating

3/4" Rubber Sports Flooring - This state of the art anti fatigue flooring provides added traction, joint protection and shock absorption.  It's simply the finest flooring option available on the market today for your dog's protection.  Only the best for Pup 'N Iron™ Dogs! 

Agility Equipment

Ring gates

Dolby Digital Stereo Sound System

Restrooms 
Seating
Ample Parking






 
 

Directions from Stafford and Points North:

Take 95 South to Exit 140 (Stafford/Rt. 630).  Turn left and go East on Rt. 630 to the first traffic light at Route 1.  Make a right on Route 1 South. Proceed 3.4 miles and make a left on Perchwood Drive, just past the Chevron gas station.  Make your first left, United Transmission (mustard yellow building) will be on your right.  Pull all the way back to the set of stone front buildings located directly behind the Chevron gas station.  We are at 21 Perchwood Drive, Unit 111.  Come in the fartherst door on your right.




From Fredericksburg and Points South

: Take 95 North to Exit 136 (Stafford Airport/Centerport Parkway).  Follow the exit to the first stop sign.  Make a right, following the signs for Route 1.  When you come to Route 1/Jefferson Davis Highway, make another right onto Rt. 1 North.   Proceed  about 2 miles and make a right onto  Perchwood Drive (Across from Barnes Furniture.)  Go to first driveway on the left and turn left.  United Transmission (mustard yellow building) will be on your right. Pull all the way back to the parking lot in front of a set of stone front buildings. We are at 21 Perchwood Drive, Unit 111, directly behind the Chevron gas station.  Come in the fartherst door on your right.
 

Mailing Address:
21 Perchwood Drive Unit 111
Fredericksburg, VA  22405