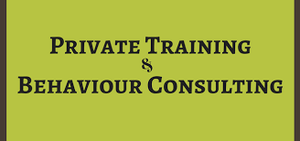 AT THIS TIME ALL PRIVATE BEHAVIOR CONSULTS ARE HELD AT OUR FACILITY. NO IN-HOME CONSU;TS BEING CONDUCTED. EMAIL US AT info@pupniron.com TO SET UP AN APPOINTMENT TODAY!
**ALL NEW** In light of the coronavirus pandemic, we now offer ONLINE DOG BEHAVIOR CONSULTATIONS!!:
Don't let your dog continue to suffer. YOU CAN GET HELP NOW! Our online behavior consultations will still include private face to face consults via Zoom or Skype. The only difference is, we won't be in the same room! We will start with a full behavior history from which I will review and implement a full home management and training plan for you and your dog.  and will work virtually weekly. Consults will include video observations and demonstrations by me and ongoing support.  
Private Training & Behavior Consultations - If your dog exhibits aggressive behavior (growling, snapping, biting), destructive behavior, shyness, fears, phobias, house soiling, attention seeking behavior (barking, jumping up, pawing, scratching...) and/or separation anxiety a behavior consultation could help you identify the source and implement a management plan. Unfortunately these types of undesirable behaviors don't just go away. In fact, they tend to get worse over time without attention. Pup 'N Iron™ offers individualized one-on-one behavior treatment consultations and behavior modification programs to address specific behavior problems that aren't addressed in enough detail during a group class. These consultations can take place here at Pup 'N Iron™ or in your home and appointments can be scheduled for daytime, evenings and even weekends. 
Or do you have time constraints and group classes won't work for you and you simply looking for some private, one on one obedience and manners training for you and your dog or puppy? We are here to help with that too!
Initial Consultation - $150
6 - 1 Hour Private lessons
Includes initial assessment, diagnosis, and protocol development then follow-up behavior modification sessions working on your dog's specific behavior issue(s)
Cost: $699
Phone Consultations - Have questions about your dog's behavior? Are you at a loss of helping him through some issues? We'd be happy to discuss it. Contact us a info@pupniron.com to arrange for a one-hour phone consultation with our Director of Training and Behavior, Laurie C. Williams CPDT-KA. We look forward to talking with you soon.
Fee: $85.00/Hour