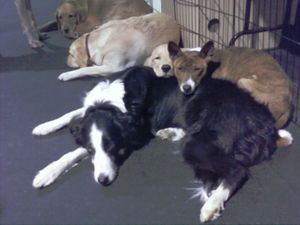 Dr. Patricia McConnell recently wrote a blog examining the concept of doggy day care, and even though it prompted a barrage of comments from readers berating and admonishing the very concept, I am so glad she wrote it.  As an owner of a successful doggy daycare for the past 10 years, I am proud to say her thoughts mirror mine and validate the very points I've emphasized through the years regarding what makes our doggy daycare stand apart from most others.  In fact, if you were to visit our
Choosing the Right Dog Daycare
page on our website, which I wrote nearly 9 years ago, you will see me posing many of the exact same questions as Dr. McConnell.  Uncanny similarities?  No, not really. I'd like to say it's common sense, but it isn't that either.  I chalk it up to being shared thoughts coming from a scientific dog behavior viewpoint with vast experience working with and observing dogs behind it. 
It takes so much more than a love of dogs or even common sense to run a safe and effective dog daycare.  You see, I didn't just wake up one day and, because I love dogs so much, decide to purchase a dog daycare franchise.  Wallah, instant dog daycare!  Nor am I someone who had been in the corporate world and was looking to make a career change, or someone who owned a different pet related business, had some additional space, and figured I'd try generating some additional income by adding dog day care to our list of services.  Now, mind you, I am not saying anything is necessarily wrong with any of these motivations.  I'm just saying none describes mine.  To the contrary, my becoming a dog daycare owner is part of a 30 year journey I've been on as a dog trainer and behavior counselor first and foremost.  My dream in establishing Pup 'N Iron was to create a full scale dog activity center that helped people establish long lasting, mutually respectful relationships with their dogs by providing a multitude of services.  I wanted it to be a one-stop place were dog owners could come to for all levels of training classes, a wide variety of relationship building activities, dog sports, fitness and therapeutic opportunities, and yes, because ours is a bedroom community requiring many people to commute into the metro Washington, DC area and be away from home for 12+ hours a day, dog day care services.  And thus, if I was going to do it, I wanted to do it right which meant establishing some clear rules, policies and more discriminating criteria.  I knew going in that would also mean going against the grain and being different in an industry that was still fairly new at the time and without any real concrete guidelines or regulations.  Well anyone who knows me well knows that marching to the beat of my own drummer is pretty much my mantra.
Is dog daycare for every dog?  Absolutely not. In fact, if I'm being honest, there are probably more dogs that aren't a good fit for it than dogs that are.  That is why we offer several different levels and types of dog daycare services from larger groups, to smaller group play, to limited day care and also a day school academy which incorporates one on one training.  Even still, through the years we've turned away more dogs than I could ever count.  If merely packing them in was my objective, our daily daycare roster would be triple the size and I'd have made triple the income.  However my mission to do right by dogs and their owners and my integrity as a positive dog trainer would never have allowed me to do that.  There are fewer things more aversive and punishing to a dog than thrusting him into an environment where he is in constant fear or turmoil.  It's downright painful to watch, but you must first know what to look for, and that's where the dog training and behavior experience comes in.  I just can't imagine running a dog daycare without that background and experience.  And then there's the challenge of communicating this to the unsuspecting but well meaning dog owner.  Explaining why dog daycare is not appropriate for their dog to prospective dog daycare clients after an evaluation, or a current client whose dog has had recurring difficulties is very delicate.  Some will understand and take it well, others will not. Some are grateful for your honesty, others feel as if they've just been told their child is getting cut from the travel soccer team.  In classic "shoot the messenger" fashion, some have rejected my assessment and suggestions and instead headed right to one of my competitors, who welcomed them with open arms.  I stopped keeping track of this after I'd heard about one such dog severly injuring and paralyzing another.  And then there are the images of so many others likely cowering in the corner of their new daycare or becoming even more fearful and reactive.  Even though I know I tried my best to prevent these negative outcomes, it doesn't make it any less painful to think about.  I'm fairly sure we have likely garnered the reputation of being the dog daycare in the area that has turned more dogs away than any other, and you know what, I'm okay with that.  Like I said, it hasn't padded my bank account, but hopefully it has also led to us garnering the reputation as the safest dog daycare in the area as well.  At least that will always be my goal.
What I also hope is that people don't dismiss the entire idea and concept.  Dog daycare can fulfill a specific purpose and can indeed be good for some dogs.  People will always have dogs, even if their lifestyles may not really be the best fit for them and for the people who are away from home from dawn 'til dusk, dog daycare can be a viable option if their dog has a personality and temperament that meshes well with a larger social environment.  It can also be a life saver for dogs with separation anxiety and  crave human and or dog interaction so badly they literally attempt to eat their way out of a crate or climb the walls of a room they are locked in.  I know for a fact that us offering dog daycare to our community has been a positive thing and I also know that it has enabled more than just a few to keep dogs they otherwise would have had to give up.  And for those reasons, I will continue to offer it and continue to keep striving to be the best.  It's not perfect, but good, safe and effective dog daycares are out there, but just like anything else it takes an educated consumer to do his/her homework and choose wisely.  It will continue to be an evolving industry, and frankly, we could all view dog daycare as an experiment and a works in progress of sorts.  Just as dog training has continually progressed and improved as we've learned more, I imagine dog daycare may do the same.