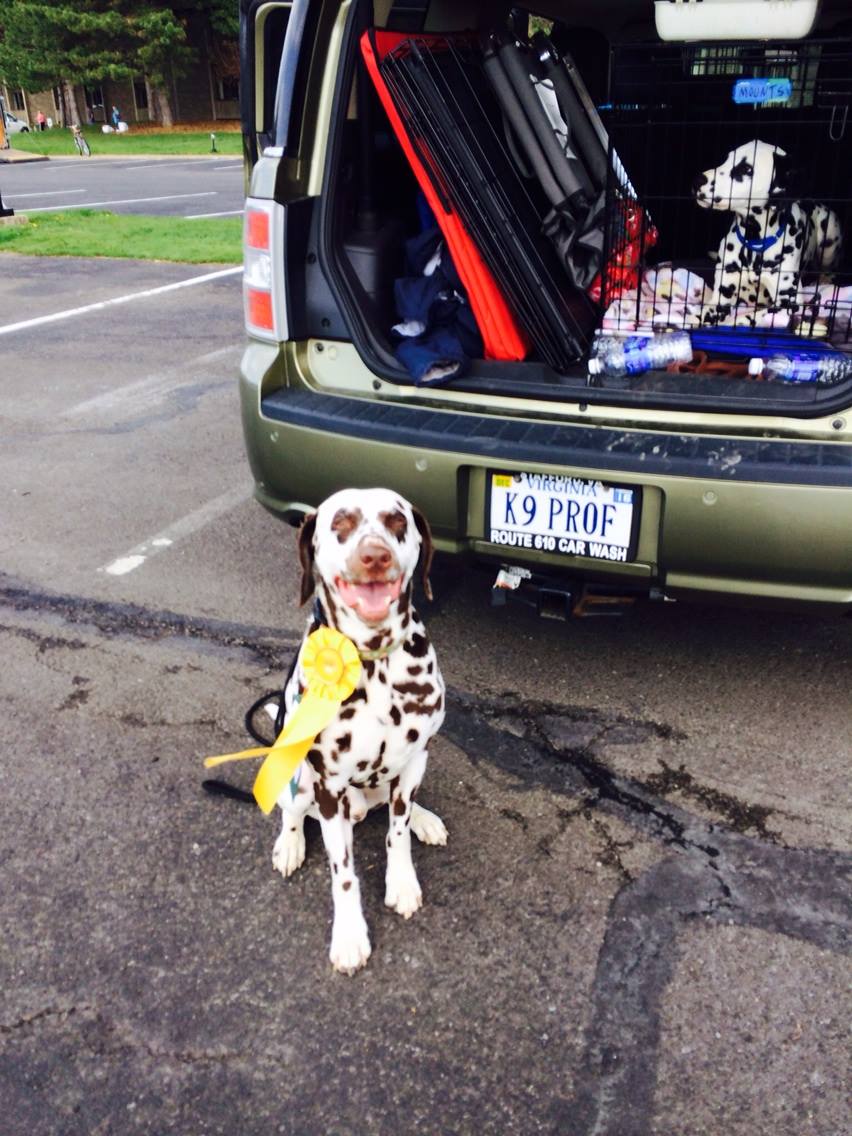 Now that I'm home from a really fun and great week at the Dalmatian Club of America National Specialty, here are some of the things I learned, (and things that I already knew but have been confirmed):
1. Dalmatians are stunningly beautiful dogs. I know, you're probably thinking "duh," what else would you expect me to say. Yes, I'm biased, but seriously, the next time you are at a dog show, take a step back, throw away all your preconceived notions about them and take a look with an open mind. Check out their structure, movement, distinct, striking and unique markings and color patterns. If you throw away your biases, I'm sure you'll agree with me. smile emoticon They are really magnificent dogs.
2. Dalmatian people are crazy. But wait. So are Maltese people (been to the national specialty and have the T-shirt), and Aussie people (know a bunch), and Border Collie people (know a bunch), and Chihuahua people (know a bunch), so forth and so on, you get the picture. ALL dog people are crazy to varying degrees, but each group thinks they are a "special kind of crazy." Nope. The dogs may be different, but we're all the same. That's why national specialties are so awesome. All that craziness gathered in one place!
3. National specialties are an altered universe. You are in a place where everyone else there loves your breed, loves your dog, understands their quirks and you no longer have to apologize or make excuses for the little white hairs on your clothes or that your dog just got all over them. They get it.
4. Anything else going on in the world doesn't matter. Heck, I didn't even know what day it was. And dear hotel manager, don't waste your time putting the daily newspaper in front of my door. I'm not going to read it. I don't care to know about all the horrible things that are happening "out there." I'm happy to be blissfully ignorant to all the goings on until I'm forced kicking and screaming back into reality again.
5. Mulch is just like kitty litter and makes picking up poop much easier.
6. Dog performance sports are indeed on the rise. This year's Dal specialty had the most agility, obedience and rally entries than ever before! The Triathlete Award that William and I (and 10 others) achieved could have been one of the reasons. There were a lot of teams striving for that so please pass on to your national specialty committees. An award like that is a huge draw!
7. Ellis and I survived his conformation debut. How did he do? He didn't jump on the judge, he didn't poop in the ring, and he didn't make me fall. No ribbon but I am counting all of the above as a major WIN. Now, back to training!
8. God bless pet friendly hotels. Despite the fact that there are always going to be people who don't clean up their dog's poop and will leave their barking and/or howling dogs in the room unattended, somehow there are still a lot of hotels/motels willing to accept pets. I will do my best to continue to give these establishments my business, be the best guest I can be and thank them for making pet owners a priority.
9. When you travel with your dog(s) you never feel alone.
10. Those who are convinced that breeding purebred dogs is wrong or evil really need to go to a national specialty (of any breed) so you can meet the people who have dedicated their lives to improve and preserve their breed. These are not rich people - or at least if they are rich, they did not come by those riches from breeding dogs. In fact, it is much more likely most have lost incredible amounts of money through the years. In addition to breeding, most if not all devote equal time to rescuing, fostering and placing dogs in forever homes. Dog breeding has certainly not been perfect and is not without its problems, but if you go to a specialty there are no backyard breeders here. Instead, you will meet people who have devoted 30, 40 and 50+ years to their breed and they do so for the love of the breed.